It's not about what you take with you, but about what you leave behind – Anjo Snijders 
In May 2017, Anjo's health is top notch. He serves in the Army and exercises a lot. Despite his efforts somehow it feels like he loses strength. When during an exercise he can't undo the clasp of his helmet, he begins to worry……
Anjo: "At first we thought of rheumatism because that runs in my family. The family doctor responded adequately and sent me to a physical therapist the same day. Who in turn referred me to the hospital. Neurological examination followed.
By now, we enjoyed summer holidays and went to Spain with our family thinking 'what's in store for us?'Back home again, I heard the crushing words from the neurologist. 'This could be very serious.' A few days later, after more examinations at the ALS center, I received my verdict. PSMA, a form of ALS, life expectancy 3 to 5 years…. I was 35 years old at that time."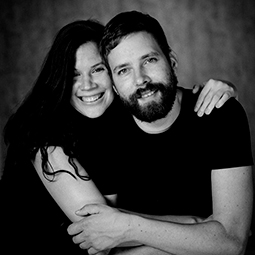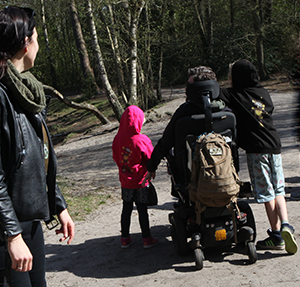 Sascha: "We knew the fierce Dutch abri- posters. The ones with the words, 'If you read this, I won't be around anymore.' Also we knew about the 'icebucket challenge' that was going around the globe. But what the disease exactly entailed, we really did not know."
Anjo: "After the diagnosis nothing was the same anymore. The ALS leaves its mark on every part of our lives. Every week we lose something I can no longer do. Soon I couldn't climb the stairs anymore. So, after I was unable to put the children to bed, we deliberately filmed the last time I did. 
The vision of our future fell to pieces on August 14, 2017. We can't give our children the carefree childhood they deserve so well. I need help with everything. Fortunately, we have a large, warm network and a wonderful team of caregivers. But it's still frustrating, being a young father feeling trapped in your own body. An with more and more feeling like an unwilling spectator."
Sascha: "Our children were 7 and 2 years old when Anjo became ill. We told our eldest that daddy was sick and that the doctor could not cure him. We also honestly mentioned that Anjo was going to die because of ALS. That conversation was the worst thing we ever had to have. But honesty is of great importance to your children. To include them and give them room for their own questioning and uncertainty. We are lucky that we both have a background in education. We know how to explain complex things and what information fits in with the developmental stages of children. This has helped tremendously dealing with our own children.
We did not tell our youngest at first, but of course she sensed  a lot going on. She often complained about being sick, getting better and death. Her questions came when she was just 3 years old, after her grandfather died. It turned out that my father had cancer the same summer as Anjo got ill, and his cancer was also incurable. His death suddenly made death very tangible, also for our youngest. 'When you're dead, you don't come back.'
Anjo: "By now they have just turned 11 and 6. The oldest is struggling right now. She has a hard time seeing me deteriorate and has some memories of that strong, active father. Our youngest grows up along with it but she has no memories of me walking. Also watching my photos from 4 years ago is so strange to her.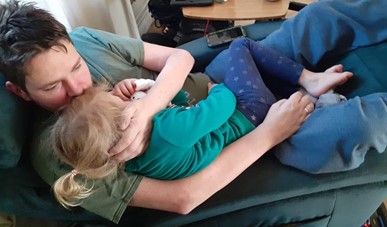 After being ill for 1.5 years, Sascha also fell ill. Until then she was still working, just like me. But suddenly she, too, could no longer walk. This was very scary, especially for the children. They experienced that in our house, if you couldn't walk anymore, you were going to die eventually."
Sascha: "January 2019, I got my own diagnosis: MS, luckily the version where one can for most part recover. However, I've had four hospitalizations in one year already. Our roles changed temporarily and suddenly Anjo became the caregiver and coordinator at home. A role he fulfills fantastically. And it felt real good to him to be useful again."
"Now our children have two sick parents. Nothing in their lives is 'normal' anymore. When Anjo became ill, we decided to focus on making plenty and beautiful memories."
Anjo: "It's not about what you take with you, but what you leave behind". A motto for doing special things and also consciously focus on the little things in life."
Sascha: "At this moment there is very little information material for young families with ALS. Most ALS patients are older than us. This means that the group who lack background info (parents with young children) is relatively small. That's why we feel it is very important to share our own experience. Besides taking care of our kids and each other, we use our precious energy to invest and work hard for other children. I wrote the picture book "Daddy Dragon Can't Be Cured", for children from age 3 to 7, who also have to deal with an incurable ill parent.
And together we wrote the story Luka & the Lights. Explaining the ALS disease with the help of the robot lights. And especially what impact it has for a ALS patient and the surroundings. I illustrated the story and Anjo designed a 3D robot based on those drawings. Together with the expertise of other patients and their children, doctors, teachers, moviemakers and The ALS Foundation Netherlands we are working on a short animation film, which will be made available for free on various media. In this film we get to know the little robot Luka. We see how everyday tasks get harder and how they find out Luka is ill and what this means  for Luka's life and environment. The film does not use words, but music, which makes it internationally applicable. This film is made by a professional animation team.
But why raise money for a short animated film, and why not for a specific medicine?
Anjo: "First of all, we think it is very important that other families living with ALS can explain this disease to their children. We were inspired by the animation short 'Ian' about a boy with cerebral palsy. We aim to reach as many people as possible all over the world. In the 21st century, one of the best ways to do that, is using moving media. We considered writing a book, but then one has to deal with several international publishers. In addition, families would need to spend money on such a book. This film will be made available free of charge to watch and to share. The 'icebucket challenge' has put ALS disease on the map internationally, now Luka is going to explain ALS to children all over the world.
Sascha: "Several famous Dutch people are supporting our project already and we hope that more international celebrities will embrace "Luka & the Lights", in order to create even more awareness for ALS.
At this moment ALS is 100% incurable. We are fighting for an ALS free generation. That requires money for research. By explaining ALS in a simple way, we hope to get more donations for this research worldwide. Bystanders often feel powerless and would like to take action too. Helping to realise Luka & the Lights may seem small, but the effect will be enormous."
Anjo: "Luka helps parents, grandparents, doctors and teachers explain ALS to children. There is nothing like it anywhere in the world. In addition, the movie helps children explain ALS to their friends, and classmates. Luka gives a face to ALS and raises awareness of this disease internationally. Because it is a robot, it is identifiable by all nationalities. And of course Team Luka hopes awareness will ultimately provide more money for research to defeat ALS."
"We do everything we can to show our children that, despite everything that happens to us, we can still make something out of life! We give them an example of resilience, thinking outside the box and having empathy. No matter how bad things can get, you are in charge and can still do something good for someone else."
Want to be the First to know about Luka?